Classes of 1963 - 2020
Clearfield

High School

- Alumni Association
In Memory
Verus Brown (Ronnenkamp) - Class Of 1964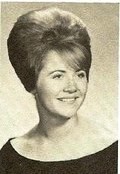 Verus Brown Ronnenkamp, 53, passed away June 29, 1999 at McKay-Dee Hospital of a brain tumor.
She was born Dec. 11, 1945 in St. Anthony, ID, the 12th child of Joseph Vernal and Ella Mason Brown. Verus married Stephen F. Ronnenkamp on May 19, 1967 in the Salt Lake LDS Temple.
She spent her early childhood in Idaho and later moved to Clinton, UT. She was educated in Davis County schools, graduating from Clearfield High in 1964. She also attended Weber State College.
Verus was a faithful member of The Church of Jesus Christ of Latter-Day Saints all her life. Of the numerous positions she held in the church, she served many years in the Young Women's program at both Ward and Stake levels. At the time of her death, she was the Relief Society president of her Ward.
She was employed at Elmco, Salt Lake City, Hill AFB and at the time of her death worked at E.G. King Elementary School in Layton as a secretary.
She had five daughters, one son and three granddaughters.
Interment Lindquist's Memorial Park, Layton.