Classes of 1963 - 2020
Clearfield

High School

- Alumni Association
In Memory
Paulette Kaye Manning (Hopfenbeck) - Class Of 1983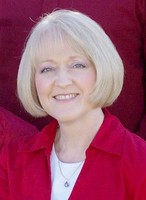 Paulette Manning Hopfenbeck, 52, passed away surrounded by her loving family after a courageous fight with lung cancer on August 5, 2017.
She was born January 5, 1965 in Ogden, Utah to Gary E and Kathryn Weaver Manning. She grew up and spent the majority of her life in West Point. She graduated from Clearfield High School and Weber State College. She received a major in History and a minor in Business as well as a teaching certificate. She spent 17 years teaching and at the time of her passing taught at Clearfield High School. She was over the IB program and loved to help the students excel in their education.
On June 18, 1986 she married the love of her life, Scott Hopfenbeck, in the Salt Lake LDS Temple. They enjoyed traveling together and made many memories in the 31 years of marriage. He tenderly cared for her throughout her illness.
They were blessed with three children: Brandon, Brittany and BreAnn. She cherished the time spent with her family and was happiest when they were together. She was an inspiration to her nieces and nephews and taught many of them at CHS. She was a sweet, thoughtful, loving and influential lady and will be deeply missed by all that were lucky enough to know her.
She was a member of The Church of Jesus Christ of Latter-Day Saints and held many callings including positions in Primary, Young Womens, and Relief Society. She had a love for the gospel and had a strong testimony that others could feel when they were around her.
She is survived by her husband, Scott; children Brandon Hopfenbeck, Dr. Brittany (Kevin) Gardiner and BreAnn (Taylor) Busboom; parents Gary E and Kathyrn Manning; siblings Michele (John) Winterbottom, Brady (Shaylee) Manning and Tiffany (Paul) Shaffer. Also survived by Scott's parents, Don and Juanita Hopfenbeck and his siblings Donita (Jeff) Ruth and Lance (Mindy) Hopfenbeck, as well as many nieces and nephews.
Funeral services will be held Saturday, August 12, 2017 at 11 am at the West Point Lakeside Stake Center, 855 N. 4000 W. West Point, Utah. Friends may visit with family on Friday, August 11 from 6-8 pm at Lindquist's Roy Mortuary, 3333 W. 5600 S. Roy, Utah and Saturday prior to the funeral, at the West Point Stake Center from 9 to 10:30 am. Funeral attendees are invited to wear Clearfield green and white to show Falcon pride in honor of Paulette. I
nterment will be at the West Point Cemetery.
In lieu of flowers the family requests donation be made to the Paulette Hopfenbeck Scholarship Memorial account at any America First Credit Union.