Classes of 1963 - 2020
Clearfield

High School

- Alumni Association
In Memory
Fausto Annoni - Class Of 1968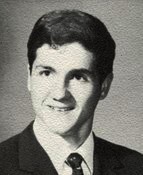 We heard from Fausto's daughter, Lauren Lattin, that he passed away in Germany August 28, 2008 due to cancer. Her tribute follows:

My Dad, Fausto Annoni
I was just 2 years old when I first met the person who would save my life…
I remember standing in the middle of a dimly lit apartment, surrounded by a bunch of big black garbage bags full of clothes and looking up at Fausto and knowing somewhere in my little heart that he was going to be a very important person in my life. I walked about 10 ft. across the grey carpeted living room to where he stood and looked up at him and asked him a question that changed my life forever. It still amazes me to this day that all it took was to simply just ask him to be my Dad and from then on, he was the best Father I could have ever asked for.
Fausto was so many things; he was a teacher, an inventor, a linguist (he spoke 9 languages), a philosopher, an engineer, a designer ….I could write a paper on just the different brilliant things he was alone, but because I knew him best as a father, I want to show you who he was through my eyes.
My Dad was honestly the most kind-hearted person I have ever met in my life, the type of person who would blame the table for hitting me when I accidentally walked into it as a little girl. When my favorite color would change (which was very often) he would always bring me fresh flowers that were "the color of the moment", always filling up my room with little trinkets that were my favorite color up until the point when I became a cranky teenager and didn't think it was "cool" anymore.
One of my favorite memories I have of him is when I turned 14. For my Birthday he and my Mom surprised me by taking me to Paris for a two week vacation/learning experience. To him, traveling was always a learning experience. It didn't matter if we were all just sitting around a campfire staring at each other or going to the Louvre and seeing the Mona Lisa. No matter where I was, as long as I was with him, I was constantly learning and absorbing all the amazing gifts life has to show. He said the secret was to just make sure you keep your eyes open and you will eventually see everything in life you want to. He was also quite the prankster! While we were in Paris he took me to have my hair done but knew that because my Mom is a hair stylist that she would be slightly perturbed that someone else had cut my hair, so we decided to have some fun and told her that the new look was to have half your head blue and the other half red while glamorously shaved into a Mohawk. I think I might technically still be grounded right now.
I guess the most important thing for me to say about him, is probably the one thing people strive for their whole lives and that is unconditional love. I have always had close relationships with my Mom, my biological Father and Fausto (my Dad), but the best lesson he ever taught me was one of unconditional love. There hasn't been one day in my entire life since that day when I was 2 that I haven't felt so incredibly loved. And not only from a person who had the obligation of being a parent since birth, but someone who chose to take on that amazing responsibility simply because they were asked.
The way I see it, is he used the rest of his life to give me one of my own. I am eternally grateful and honored that I had him as my Dad for the first part of my life, and the last part of his.
I will love you always Dad…
Your Daughter, Lauren