Classes of 1963 - 2020
Clearfield

High School

- Alumni Association
In Memory
Walter Dee Donaldson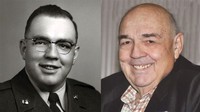 ROY - Walter Dee Donaldson died on June 2, 2015, and was finally reunited with the love of his life who was "the wind beneath his wings". He was born March 25, 1934, in Ogden, Utah, to Walter and Ada Perry Donaldson. He attended Weber County schools, graduating from Weber High School in 1952. He was an eagle scout and loved scout activities.
He was a faithful member of The Church of Jesus Christ of Latter-day Saints, and served in the Central States Mission. He spent his life serving various callings in the church, and especially loved home teaching, teaching gospel doctrine classes, and teaching primary children.
He spent two years in the U.S. Army, serving in California and Alaska.
Dee married Bertha Brown on November 18, 1959, in the Salt Lake Temple, moved to Roy a short time later, where he has spent the rest of his life. He was a long-time member of TOPS Utah 315 and 334, where he gained many lasting friendships.
He earned an associate degree from Weber College, a bachelors degree from Utah State University, and a masters degree in counseling psychology from Brigham Young University. He spent his lifetime as a teacher and counselor at Clearfield High School, where he learned to "bleed Falcon green", retiring in 1994.
Dee volunteered at Midland Elementary where he loved to read with the children; who he said saved his life after the death of his wife in 2010.
We want to thank the hospice staff and special thanks to the nurse and CNA's that spent so many days just trying to make his last days as happy and bright as possible.
He is survived by his daughter, Cindy Snow; and five grandchildren who were the lights of his life, Brandon, Brittnee, Brooke, Boyce, and Baylee; great-grandchildren, Natalie, Vanessa, Dee J., Dalton, Brayden, and Jaycee Lee. He is also survived by sisters Kay Matteucci, Ann (Stan) Prescott, and Patricia (Jerry) Wilkins. In addition, he is survived by a special son, Earl Cole, and many foster sons and daughters who shared his home for many years and were true blessings in his life.
Dee was preceded in death by his wife of more than 50 years, Bertha, his son, Craig, and his parents.
Funeral Services will be held Saturday, June 6, 2015, at 11 a.m., at Roy Stake Center, 5080 South 3100 West, Roy. A viewing will be held on Friday, June 5, 2015, from 5 - 8 p.m., at Myers Roy Mortuary, 5865 South 1900 West, and on Saturday from 9:30 - 10:30 a.m., prior to services at the church.
Interment, Roy City Cemetery where Military Honors will be accorded.
Condolences may be sent to the family at:
www.myers-mortuary.com