Classes of 1963 - 2020
Clearfield

High School

- Alumni Association
In Memory
Ray Earl Child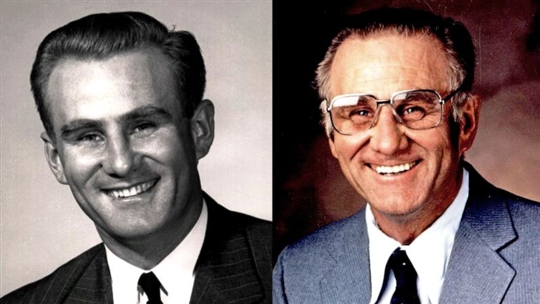 Our loving father, Ray Earl Child, son of John T. and Katherine Van Kampen Child passed away peacefully Monday afternoon at Davis North Hospital, surrounded by his family.
He was born at home in Clinton just west of the Clinton Elementary School where he attended school and helped on the family farm raising cattle. Ray was a wonderful father, grandpa, kindly neighbor, and was respected in his community. He was honored as Grand Marshal of the Clinton Parade and he faithfully attended and served in the L.D.S. Church his entire life, and dedicated his home as a place welcome to all.
He attended North Davis Jr. High and Davis High School (1947-50) and Weber State College from 1950-52. He graduated from Utah State University in 1954 with a B.S. in Industrial Engineering. He was in the top 10% of his class and earned an extra 30 hours in education to teach school. He was called on an L.D.S. Mission to California Long Beach from 1955-57. He started teaching at Bountiful High School.
In 1958, Ray Earl Child married Linda Lou Smith on October 2nd, 1958 in the Salt Lake L.D.S. Temple. Ray loved teaching and farming and Linda loved music and fiddling. Ray taught Auto Shop at Clearfield High School from 1960 to 1994.
He is survived by his four brothers, Clark, Paul, Dale and Don Child; Ray and Linda's five children are David, Cherilyn (Dan), Cindy (Brent), Ron (Shalyn) and Jamie Child. He has 12 grandchildren and eight great grandchildren.
A viewing in his honor will be held on Friday evening, September 8th from 5 pm – 8 pm at the Clinton 12th Ward building at 1708 W. 800 N. Clinton Utah. Funeral Services will be held on Saturday, September 9th at 10 am with a family viewing preceding at 9 am at the same location.
Arrangements entrusted to Leavitt's Mortuary.
Interment Leavitt's Aultorest Memorial Park.