Classes of 1963 - 2020
Clearfield

High School

- Alumni Association
In Memory
Maria (Mary) Belin Jaramillo - Class Of 1977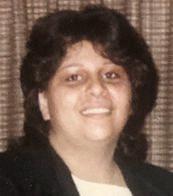 Mary Jaramillo, 60, of Clearfield, UT passed away on August 23, 2019.
She was born on December 12, 1958, to Agustina Maestas and Ramon Jaramillo in Ogden Utah. Mary grew up in Clearfield, Utah and graduated from Clearfield High School. She moved to California with her sweetheart David Aragon where they raised their two sons. She later moved back to Utah. Mary was the life of the party and loved music and dancing. She enjoyed the outdoors and gambling. She loved being a grandmother. She is loved by many and will be truly missed.
She is survived by her two sons Andy Jaramillo (Callie) and David Aragon (Araceli); sisters Rosa Arce (Carlos), Lorraine Trujillo (Martin), and Vicky Stewart (David); grandchildren Anthony, Orlando, Aleia, Koa, Marcos, Mayze, Winona, and Matias.
She was preceded in death by her parents; sister Ciprianita Jaramillo; brother Ramon (Poncho) Jaramillo and Henry Trujillo.
Celebration of Life will be held August 30, 2019, at 6 p.m. followed by visitation with friends and family until 8 p.m. at Calvary Christian Church 4737 S. 1900 W. Roy, Utah 84067
If so desired, flowers may be sent to Andy and David 4494 W. 5225 S. Hooper Utah.
Condolences may be shared at: www.myersmortuary.com