Classes of 1963 - 2022
Clearfield

High School

- Alumni Association
In Memory
Dr. Milan Scott Blake - Class Of 1966 VIEW PROFILE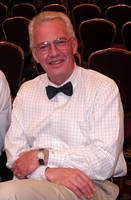 Dr. Milan Scott Blake of Fulton, MD. unexpectedly passed away on Monday, July 5 at the age of 62 of a vicious heart infection. He was a beloved husband, father, grandfather, brother and friend. He will be forever loved and missed.

Milan was born in Ogden, Utah on April 15, 1948 to Loy Frank and Erma Blake. He began his life in a small farming community but because of his diligence and expertise in science became well-known and admired around the world. At the time of his death he was a Senior Director for vaccines at the FDA.

Milan graduated from the University of Utah with a BS and Doctorate degree in pathology. He worked at the prestigious Rockefeller University for over 20 years. He had a remarkable career in science and medicine. Dr. Blake has developed and patented many vaccines and was active in immunization research.

Milan married Kathy Dee Franklin and they had one child, Lea. They later divorced. He married Christa and they had two children, Richard and Susan.


Milan earned the rank of Eagle Scout when he was just 13 years old. At the time he was the youngest Eagle Scout in his Council. He continued to support the Boys Scouts of America and has been active in helping young men achieve success. He was a den leader for 6 years, then a troop leader. As a member of the Knights of Columbus he was the troop liaison.

In addition to the scouts and being a Knight, Milan was very active at his church, Saint Francis of Assisi.

Milan is survived by his loving wife Christa, his daughters, Lea Osol (Erik), Susan, and his son Richard, and his darling granddaughter, Charlotte. He is also survived by his brothers Van, Lynn, Leon and sister, Susan Carter. He was preceded in death by his parents.

Funeral services will be held on Saturday, July 10 at 11 a.m. at Saint Francis of Assisi, Fulton, Maryland. Interment will be at the St. Louis Cemetery with a reception to follow at the home of Sandy Postman and Yiannis Antoniades, 8523 Edenton Road, Fulton. Friends and family may gather Friday evening from 5 to 8 p.m. at the Witzke Funeral Home, Columbia, Maryland.

Milan will be missed by his family, friends and colleagues who knew him for his professional expertise, his humor, his kindness, and his fun loving spirit.

In lieu of flowers, please consider a donation to the children's education fund. Checks should be made out to American Funds College America 529 Plan; they can be dropped off at the church or mailed to the home.

Milan's sister, Susan Blake Carter (Class of '63) has added that Milan (Class of 1966) enjoyed his time at C.H.S. and learned so much from the teachers there. He played football and loved that comradery. He truly went on to accomplish great things for the health and welfare of the world. He held over over 30 patents and published 80 articles in medical journals. At the time of his death he was Director of Immunization for the FDA which meant that he was responsible for all immunizations in the country.

Click here to see Dr. Milan Scott's last Profile entry.