Classes of 1963 - 2021
Clearfield

High School

- Alumni Association
In Memory
Evan Rodney Waite - Class Of 1975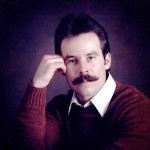 Evan Rodney Waite passed away July 11, 2015 at his mother's home in South Ogden. He was born October 15, 1956 in Brigham City, Utah to Arlene Dial Waite Rasmussen and Rodney Hurren Waite. He was the middle of three children.
Evan grew up in Sunset, Utah and graduated from Clearfield High School where he played football and enjoyed other sports. After high school he worked for Phil's Foodmart, he then entered the construction trade. He was then hired on at Western Zirconium in the Fabrication Department where he ran the forge press. He received many awards for safety and operations. He worked there for nearly 30 years.
Evan enjoyed the outdoors, hunting and fishing. He enjoyed being with his good friends and would befriend anyone in need.
Evan married Tracy Titus. From the union came a daughter, Brooxie, later he had a daughter Kelsie with Kay Chase. He later married the love of his life, Lisa Nadel.
Evan is survived by his mother, Arlene; his brother; Jerry H. Waite (Jeri); sister, Carrie Adams; nieces and nephews: Stephanie (Andy) Taylor, Jackie (Kelly) Moss, Clint (Christy) Waite and Brady Adams; and step father, Ken Rasmussen, all who loved him dearly.
A Viewing will take place Wednesday, July 15, 2015 from 6:00 to 8:00 pm at Leavitt's Mortuary, 836 36th Street, Ogden Utah.
Graveside Service will be at the Willard City Cemetery, Willard, Utah, Thursday, July 16, 2015 at 11:00 am. Friends may greet family one hour prior to services at Leavitt's Mortuary from 9:15 to 10:15 am.
Interment at the Willard City Cemetery, Willard, Utah.
Arrangements under the direction of Leavitt's Mortuary, 836 36th Street, Ogden, Utah.
Please send condolences to the family at: www.leavittsmortuary.com